Southgate Thanks Goalkeeper Joe Hart for Point against Slovenia
Posted on: 25 October 2016
Caretaker manager Gareth Southgate thanked¬¬¬ goalkeeper Joe Hart for being of a massive importance in the draw with Slovenia.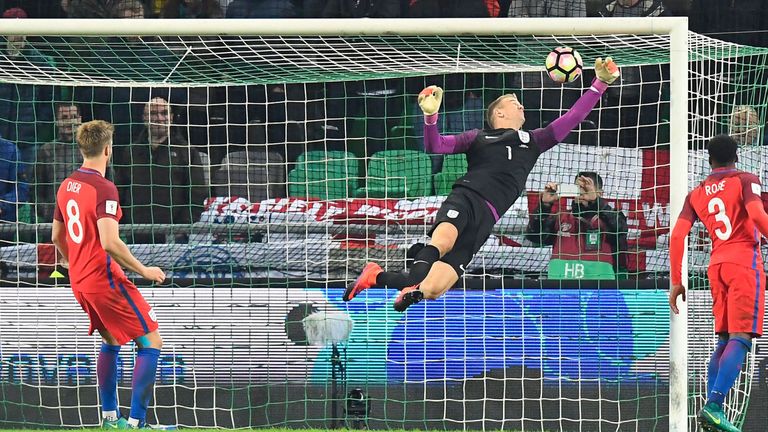 England could only manage a 0-0 draw with Slovenia, which was also Southgate's second match in charge of the national team. The former Middlesbrough and England under 21 manager has been placed as the temporary man in charge of the national team while they search for a permanent successor to Sam Allardyce. There is even a possibility that Southgate could impress the England FA sufficiently to earn himself a permanent job.
However, the result against Slovenia will not be of major help since England were quite disappointing in the game. After coming in from a 2-0 win over Malta, Southgate decided to drop the underperforming Wayne Rooney from midfield. Yet, England could not improve their performances and struggled to create any clear-cut opportunities. At the other end of the pitch, their defence was put under consistent pressure from underdogs Slovenia. It was only due to the performance of Joe Hart, who is currently on loan at Torino from Manchester City, that England were able to escape with a point.

The solitary point is of a major assistance when it comes to World Cup qualification, as England still retain the top spot in the group ahead of Lithuania."What are my expectations of how much they can take on in five days and five training sessions? I have to be realistic about the impact we can have. But they showed signs of understanding how we want them to play. They had tactical discipline at times.The mistakes were a concern because you can't make them at this level. But it's difficult to expect too much because of the inexperience we have. We owe our goalkeeper for an outstanding performance," said the manager after the game.